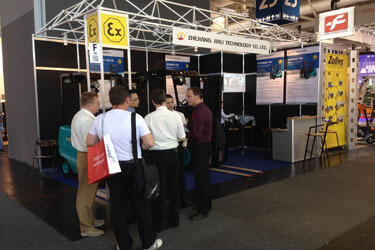 Exhibition period: 19.05.2014-23.05.2014
Exhibition Ort: Exhibition Center Hannover Germany
Exhibition overview:
The word's most important industry trade show is CEMAT Hannover Germany. Once every three years, the exhibition brings together the world's top and most extensive logistics technology and equipment enterprises, collects the cutting-edge technology in the logistic field、innovative idea and service concept. More than 1100 exhibitors from all around the world show the world's leading internal logistic product and technology in areas of 140000㎡ , attract about 55000visitors from global. More than 30 suppliers for forklift and logistics related equipments from China, including "Jiali Technology".
In 2011 our company first time participate in this exhibition, this time we come to CEMAT with many new products, such as CPDYJ10~30-FB Explosive-proof hydraulic AC power forklift、CPDB20-35 Explosive-proof electric forklift、CPDB40-50 Explosive-proof electric forklift、CPCDB20~35 Ex-internal combustion counterbalance forklift etc.
In the 2011 exhibition, "Jiali Technology" introduced many new products which obtained a high degree of concern from domestic and foreign customers. After three years, "Jiali Technology" showed the world the Chinese industrial vehicle production level and manufacture level, and let customers from Europe and USA once again saw Chinese industrial vehicle manufacturing power.
Through this exhibition we not only learned new technology from industry forefront, at the same time established contact with many industry experts and foreign agents, it will be a strong platform for our products to go out of the country.